For decades – or even centuries – a man would have to have a beard or at least a mustache in order to be considered a true gentleman. After a few decades of going back and forth regarding what is the "classic" male appearance, the beard trend has yet again risen to prominence.
In every magazine and on every red carpet, there are men sporting thick, stylized beards. They simply ooze manliness, style, and confidence. It is no wonder that more and more men are tending to their manes with specialized products. However, not everyone has the time, patience, or the money to visit the barber and enjoy an immaculate beard shaping experience. This is where beard shaping tools come into play. In order to achieve a perfect beard line, finding a good beard shaping tool is essential. It will help you both groom and maintain your beard with ease.
Not many of us are born with the talent to achieve perfect symmetry with free-hand moves. It takes a lot of experience, practice, and a sense of aesthetics to do so. It can also be really difficult to practice on yourself because, let's be honest, if you make a mistake, chances are that you are going to have to shave and then start re-growing your beard from scratch. Luckily, a good beard shaping tool will help you figure out the exact shape and achieve perfect lines all without having to visit the salon.
The best thing about these tools is how easy it is to use them. That does not mean that you will not need any practice whatsoever. The trick is to find the perfect beard shaping tool for your face shape, beard type, and as the style of beard, you want to achieve.
Read on to discover the best beard shaping tool on the market! We have included everything you need: a lot of beard shaping tool reviews, different ways to get your desired beard style, what materials and shapes are best for your beard, shaper prices, and even some tips on the side!
THE TOP BEARD SHAPING TOOLS
1. Aberlite Beard Line-Up Tool
For us, the clear winner is this amazing Aberlite beard shaper tool. It will really leave your beard looking tidy and clean with very little practice! Its unusual shape might be a bit intimidating at first but thanks to the detailed instructional video available online, every shape and curve will become clear in an instant.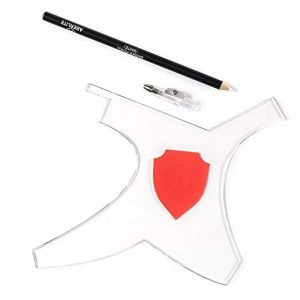 This beard line-up tool allows you to choose between various beard designs. It offers everything from the classic cuts to the modern, sleek edges. Its elongated build allows for easy trimming of any face shape out there. With the Aberlite, you can achieve great beard or hair fade styles, straight or curved cheek lines, a shaped goatee and sideburns, and a crisp, sharp neckline.
Since it is made of transparent, sturdy plastic with high-quality rubber in the center, the shaper is durable and shock-resistant. The rubber gives you a firm grip while its anti-slip properties will keep the shaper steady while you design your new beard look. While the transparency may seem like nothing more than modern design, it is actually really useful in helping you to put the shaper in the right spot. This transparency makes it easier for you to see the line you are making and correct it if need be.
Along with the beard shape-up tool, you will also get a professional white barber pencil. For those of you who are not familiar with barber pencils, these are used to draw the shape, following the line of the beard liner tool. This will allow you to assess if it is the style you want and that everything is symmetrical before actually trimming your beard. If you are not happy and want to try it again, you can simply wipe off the pencil lines and start drawing again. Because most beards vary in color from dark blonde to black, the white will stand out on almost any face. This ensures that it will be super-easy to outline the shape of your beard.
Another perk of this beard tool is its thin, smooth edge. This allows your razor and/or trimmer to reach every last hair without bumping into the edge of the shaper or leaving you with a messy beard line. The multiple shapes you can achieve with this one tool means that you will need fewer beard accessories than ever. So, if you are not a fan of bathroom clutter, this is the perfect product for you. Creating a neat beard line will tidy up the look of any beard immensely. Get a perfect trim from the comfort of your own home with this great product.
Pros:
Multiple shapes with a lot of choices
Sturdy, durable, and shock-resistant
Anti-slip rubber gives a firm grip
Professional white barber pencil included
Transparent
Instructional videos available online
Cons:
No comb included
Some users claim it is not flexible enough to follow the contours of their faces
2. Beard Command Men's Wooden Beard Shaping Tool
Our second-best beard template has to be this old-school Beard Command beard shaping tool. This multifunctional set is the perfect gift, not only because of its functionality but because of its stunning look and natural feel as well.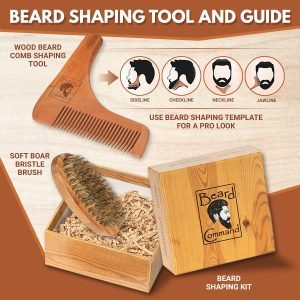 This set comes with a boar bristle bamboo wood brush and a two-in-one shaper that doubles as a comb. The brush features two types of boar bristles – soft and hard – to allow your beard styling to become an everyday activity. Who wouldn't like to brush out their beard when they have a tool as good-looking as this brush? It will do a great job of smoothing out your beard and is ideal for applying beard oil or conditioner evenly throughout your facial hair!
The premium wood comb that can be found on one side of the shaping tool is ideal for grooming all types of beards, except for really curly or really thick ones. The whole product eco-friendly and 100% biodegradable, which is good for those who are looking to lower their use of plastics.
The beard shaping tool will help you style your sideline, cheek line, jawline, and neckline like a pro. But, like any beard liner, there is a learning curve involved in this process. The ergonomic design will make it easy for you to hold it in place, but even so, some users have reported that it took them 4-5 tries to achieve their desired look.
While wood is an elegant material, its benefits do not simply end with its looks. As you may know, hair and plastic can cause some static electricity when they come into contact. This usually happens with cheaper plastic but will never happen with this wooden set. Plus, while this is a two-piece set, it is not at all bulky. That means it can be packed in any smaller-sized bag and become your trusty, modern travel companion.
Pros:
Sleek, elegant wooden design
Multifunctional 2-piece set: brush + comb + beard shaper
Sturdy and durable
No static electricity
Cons:
Not transparent, meaning it can be harder to place
Brush bristles tend to fall out over time
Comb does not work on thicker beards
3. The Beard Black Beard Styling Tool for Perfect Beard Line
The third on our Top 3 list and the best beard shaping tool when it comes to simplicity and minimal design is this Beard Black styling tool.
This facial hair liner will help you to style your cheek line, neckline, jawline, mustache, goatee, and sideburns. That might seem like a lot to achieve with such a simple tool, but it comes with a comprehensive grooming kit guide that will get you professional-looking results in no time.
One novel feature of this beard shaping template is its measurement pointers. These square-shaped holes on both sides of the plastic allow you to reference the beard line position and compare it to the other side of your face so that achieving symmetry becomes fairly easy.
There is also one comb on each side of the shaping tool so that you will not have to angle it awkwardly or change your hand position while combing through your beard. This will ensure that your beard looks perfect every day, in just a matter of seconds!
The minimalistic, compact design makes this the most travel-friendly beard liner tool yet. The thin edges ensure that your razor and/or trimmer will cut the hairs close to the edge, enabling greater precision when creating a beard line. Due to its smaller size, using this template might be more difficult for those who have a slightly rounder or larger face, though. It will not be impossible but it will simply take a few tries to figure out all of the angles and positions.
One downside of this tool is that it is opaque. This means that you will be unable to see if you are trimming correctly or if you are going to end up with a messy, asymmetrical line. One way of fixing this is by buying a barber pencil on the side. You can also get a vibrant makeup crayon and use it instead of a pencil.
Pros:
Sleek, minimal look
Compact design
One comb on each side
Measurement pointers
Multifunctional
Cons:
Not suitable for longer, thicker beards
Not transparent
The learning curve for rounder faces
SOME OTHER BEARD SHAPING TOOLS TO CONSIDER
4. Aberlite FlexShaper Neckline Guide Shaper
This Aberlite beard shaper is the best beard shaping tool for those looking to get that perfect neckline shave. Creating a neat neckline can tidy up the whole appearance of your beard. This tool can really make a huge difference.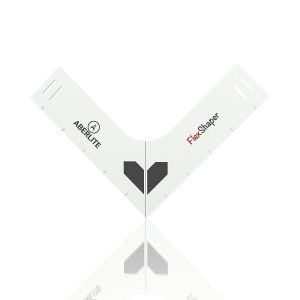 One key thing to avoid when creating a neckline is to avoid shaving too high and disturbing the jawline. The innovative Aberlite FlexShaper will help you create a natural, precise neckline by holding the tool in place while you trim! Two different headbands come in the pack and both can be adjusted to hold the flexible beard neckline template in place. One headband is black (0.9 mm thick) while the other one is a bit tighter and white (1.1 mm thick). By holding the tool firmly in place for you, these headbands will allow you to trim with both hands, resulting in greater precision!
This flexible beard shaping template is made out of high-quality plastic, meaning that it will last you for a long time. You can adjust the position of the shaping tool on your neck until you are completely satisfied with the shape of your neckline. The material will conform to the shape of your neck, which is better than the stiff feeling that some other shaping tools can sometimes have. With the flexible shaper and the elastic headbands, it is no surprise that this beard shaper was designed to fit any neck size. If you find yourself a bit confused about how exactly to use this tool, you can find detailed instructions online.
If you are planning on growing your beard long, you might not need to use this tool to achieve the perfect beard line every time. This is especially true once your beard grows out a bit. But it can be a true savior when you are trying to shape your three-day stubble.
Some users have said that they had a hard time getting a straight line with this tool, especially under the ear. This seems to be more of a problem the first few times you use it. You will definitely get the hang of it as time goes on.
5. BEARDCLASS Beard Shaping Tool
If you are searching for the ultimate, multifunctional beard shaping template, look no further than this BEARDCLASS beard shaping tool. This 8-in-1 multi-liner shaper can truly do it all. It can help create a curved cut, step cut, sideburns, a neckline edge, a curved or straight goatee, and cheek lines.
In addition to all of that, this beard liner tool features a full-sized comb. This will help you straighten your beard before shaving, making it easier to achieve precise lines. The shaper also boasts a 1-mm edge all around, meaning that every side of the tool is paper-thin. This feature will enable any razor and/or trimmer to glide along the edges of the shaping tool, leaving almost no gap between the tool and the beard line. Keep in mind that some users have noted that the thin edges make this tool pretty sharp, which can make shaving uncomfortable at times.
It is almost completely transparent so that you can see exactly where you are trimming and correct the position of the tool along the way. Made out of a fairly strong, plastic, this tool is available in three transparent colors: clear, green, and blue.
Keep in mind that while it has many perks, this beard shaping tool is not suitable for long, full beards or larger faces. It works best with shorter beards and smaller faces.
6. Monster & Son Beard Shaping Tool
Another fantastic multifunctional tool is this Monster&Son beard shaping tool. It boasts a wide comb that is suitable for longer beards and has a beautiful design as well. Thanks to the larger size of the tool and the width of the comb, a comfortable grip and easy handling are practically guaranteed.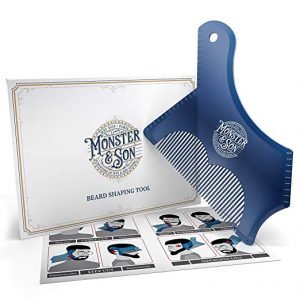 Like the Black Beard styling tool, this product also has leveling marks that serve as a reference point for achieving that symmetrical look. For those that are inexperienced in handling beard shaping tools, a user guide is included in the package. It will explain the whole process to you in no time!
The semi-transparent color might seem confusing at first, but it serves its purpose well. This tool is transparent enough so that you can see the hairs beneath the shaping tool. But it is also tinted just enough so that you do not lose track of the positioning of your beard line.
The tool can be turned around and used to achieve many different cuts: curve cut, step cut, sideburn, curved and straight goatees as well as straight, precision mustaches and necklines.
7. Travers Brands Beard Shaping Tool
For those who want to have styled stubble or a short beard and not grow it any further, this practical, multifunctional beard shaping tool might be just what you need.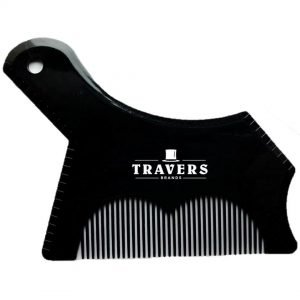 The compact and ergonomic edges of this liner tool will help you shape your beard just as you want it. With templates for the cheek line, neckline, jawline, mustache, goatee, and sideburns, it has everything you need in one.
This tool is almost the same shape as the Monster&Son Beard Shaping tool. The difference is that this is completely opaque and the comb is not as wide. This lack of transparency might make it a bit harder to get used to using this template, but it makes up for that with the leveling marks.
The chamfered edges ensure that getting up close to the shaper tool is really easy. Its 100% money-back guarantee means that if you do not like this product, you have 30 days to return it – no questions asked.
8. EZGO Stainless-Steel Beard Styling and Shaping Template
Perhaps the most beautiful beard shaping tool of the bunch, this EZGO stainless-steel beard styling template is a minimal masterpiece. It boasts great design, a styling template with both curved and straight edges, and two combs as well.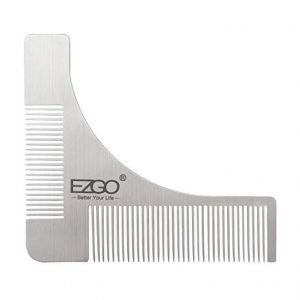 The combs ensure that any beard can be subdued and styled without much effort. These combs are great at spreading beard oil. Some customers have said that the metal comb ends up pulling on their beard hairs. This may be due to their specific type of beard, so, unfortunately, you will not know if these combs suit you until you try them.
The rounded edges provide a greater level of comfort while shaving while it is lightweight enough to be a great beard shaping tool for traveling with. It can be used for the neckline, cheek line, sideburns, mustache, jawline, and goatee. Some users have noted that its shape leaves them with limited options and that to get a crisp edge, they need to slide the template down a bit, which risks creating an asymmetrical beard.
There is no question that this beard styling tool will last you a lifetime. However, if you are planning on sporting a beard for a long time, it might be wise to invest in a beard shaping tool that is a bit more complex. Keep this one as a trusty second or as a trusty friend for traveling.
9. Sharpiz Beard Shaping Tool
On paper, this Sharpiz beard shaping tool is a multifunctional shaper and comb. But, to be honest, the comb is way too narrow to be able to glide through even a medium beard. If you are sporting a mustache, though, this could be a very useful feature.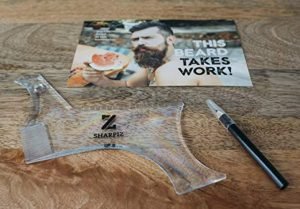 The shape of the Sharpiz tool is a bit more complex, allowing for a greater variation in beard shaping. With it, you can shape your cheek line, neckline, jawline, mustache, goatee, and sideburns. You can also cut the head and neck hairline as a part of your haircut. The tool is transparent, which is a plus because it allows for precise shaving. Another plus is that it comes with a black pencil, which you can use to draw the desired outline of your beard before trimming. One obvious downfall of this pencil is its color as it will probably not be suitable for men with darker beards or darker skin tones.
The design of this tool is ergonomic and it provides a firm grip. The shaping tool also features ear and nose leveling marks and thin edges. The styling tool, the black barber pencil, and a grooming guide with tips are all included in the package when you order.
Some customers have noticed that despite its cool features, this beard shaping tool is not suitable for people with softer, rounder cheeks. It is too rigid and completely flat, making it difficult to press comfortably against the face.
10. The Beard Ninja Beard Shaping Template
Last but not least, we have come to the Beard Ninja, the last in our list of the top 10 beard shaping tools. This 8-in-1 multi-liner tool has a complex shape that enables curve cut, step cut, or straight cut beards.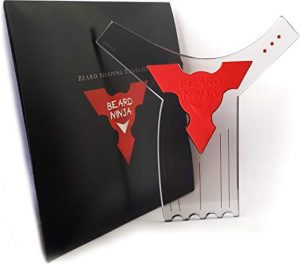 It has templates for a straight goatee as well as an outward curved one, sideburns, and mustache as well as a perfect neckline. There are some pretty useful printed guide marks on the transparent edges, which make achieving symmetry a breeze.
In the center is a silicone, anti-slip grip that offers users good control and comfort. When you order this product, you will get a color PDF e-book with information about different beard-growing styles and a tutorial on beard sculpting.
Like the Sharpiz shaping tool before it, the Beard Ninja fails to provide a solution for round-faced men due to its lack of flexibility. Even so, it is a great beard shaping tool, especially at its price.
About Beard Shaping Tools
The internet has given us so much free information that it would be silly to presume that there are not loads of videos and tutorials out there about the best beard shaping tools.
With so many beauty gurus out there that are primarily concerned with female beauty, the idea of male beauty and grooming products seems to have been left far behind. Fortunately, things have started to change and the visibility of men's beauty products is on the rise.
Let's get one thing straight: the best beard results can be achieved by a professional barber who has shaped and groomed thousands of beards in their lifetime. No matter what you do at home, there is simply no way to match the precision of a highly-trained barber. But, on the other hand, the question is: do you really care? Is having a well-groomed, clean-cut beard better than having to go to the barber? Even if it is not absolutely perfect, why pay a substantial amount of money for something that is just slightly better? Our guess is that most beard wearers would prefer to maintain their own beard at home for a fraction of the price and in a lot less time.
What Is a Beard Shaper?
Beard shaping tools are multifunctional, compact tools with differently-shaped edges that make styling your beard at home a piece of cake. Well, that is true after some time, at least. There is a learning curve to these tools and, unfortunately, no matter how much you try, there are no shortcuts. Learning to use a beard shaping tool will require some trial and error. But it should not mess your up beard so much that you have to shave it completely and start growing it over again. Be prepared for some questionable lines along the way, though.
The key to finding the perfect beard shaping tool for yourself is to assess your needs, your beard type, your desired style, your willingness to do regular upkeep, and so on. This will all affect the type of beard styling tool you choose. Each shape, material, and function has some useful aspects, but also some downsides that you will need to weigh when making your decision.
Design-wise, the best beard shaping tools are simple, compact, and practical. That being said, their design still allows for a lot of diversity. This can primarily be seen in the materials and colors used, which allow each man to choose a shaping tool that is in line with his aesthetics. Beard shaping tools are available in a wide range, starting with an old-school design that would be suitable for a gentleman from the '50s to a more modern, seamless design suitable for a millennial or someone from Gen X.
Which One Is Right for Me?
When choosing the best tool for shaping beard, it is important to choose a tool that you genuinely like. After all, you are going to be using it for a long time after purchasing. These products tend to be durable and will not break easily. Try to think of a particular color that you like or the environment in which you most often shave. Pick a beard shaping tool that will fit seamlessly into your bathroom vibe and design. You can try to combine its color with that of your razor or trimmer so that they seem like they came in a set. Before deciding what beard shaping tool to buy, let's cover some of their key aspects.
The Basic Components
Beard shaping tools are usually very simple. They usually consist of the shaping tool and a comb while some shaping toolsets also include a brush.
The Shaping Tool
The tool itself is reminiscent of that triangle ruler you used to use in math class, but with a round, inverted edge. This edge allows you to shape the cheek line of the beard and to make a clean cut from below your cheekbones down to the corner of your mouth.
While the triangular shape is the most basic, there are other beard shaping tools with various shapes that allow for much more beard-shaping options. With these, you can combine straight and curved lines that are both short and long as well as angled differently. You can experiment with different beard styles and even different haircuts! Luckily, most of these tools also come with some kind of instructions on how to use their product to style your beard.
The Comb
The comb is usually a built-in part of the basic beard shaping tool, making it multifunctional. It can be found on the side (or sides) of the tool. Depending on its width and material, this comb can be suitable for either short, thin beards or long, thick ones as well. The teeth of these combs are often thin and narrow, which can cause some difficulty for those with thicker beards.
Another option when it comes to beard combs is to get a separate comb, either as a part of a beard shaping tool kit or separately. This could be a wise move for those with longer, thicker beards because the teeth of these combs are often sturdier and more capable of gliding through those types of facial hair.
The Brush
A brush never comes as a part of a multifunctional tool. Instead, it is often offered as an added tool in a beard shaping kit. A brush can be very useful for smoothing out the beard and applying products such as a beard conditioner or oil evenly throughout the beard.
One important thing to note is that beard shaping tools work best when paired with high-quality razors or trimmers. Those tools will give you better results when paired with a good beard shaper.
Also, we must say that a beard shaping tool can be a great gift. It is not that hard to choose the right one and it is a great surprise to receive on any holiday. Show your love to that special bearded man in your life and give them their very own beard shaper on their birthday, Father's Day, Valentine's Day, Christmas, or any other holiday you wish.
A Beard Shaping Tool Buying Guide
When choosing the best beard shaping tool, you should first consider all of the things you already have in your beard grooming kit. Do you have a comb? Well, then you will not need a shaping tool with a comb included. The same goes for the brush. If you already have one, then there is no reason to pay for a kit that has another one. Choose a single product to spend a few more dollars on instead.
There are also some other important questions to take into account when choosing the beard shaping tool.
The Material
Have you found yourself asking, "Will I be able to achieve beard style I want with this product?" First of all, let's take a look at the three main materials used for most of the beard shaping tools on the market.
Wood: Although it seems elegant, keep in mind that wooden beard shaping materials will come into contact with razors, trimmers, scissors, and so on. This means that it will quickly become a little scratched if you are not careful. This does not mean that it will lose its functionality or sturdiness but rather that its classy looks will quickly deteriorate. We should note that it always better to have a transparent beard shaping tool, at least for beginners. Buying a barber pencil could fix that, but if you are the type of person who prefers a one-size-fits-all product, this might seem like too much of a bother.
Metal: This is the most durable material when it comes to beard shaping tools. The good thing is that it will last you a lifetime. The bad thing is that, yet again, it will not be transparent. But, again, this can be fixed by using a barber pencil. Metal is also usually very cold to touch. There are a lot of men who simply do not like the feel of cold metal on their cheeks first thing in the morning.
Plastic: Plastic is a good option as well as the only option that can offer transparency. The downfall is that plastic is the least durable of the materials out there. While this does not mean that your shaper is going to break easily, it will break more easily than a wooden or metal shaper. Plastic beard shaping tools are lightweight and they will not scratch or chip as easily as the wooden ones do. One great thing about plastic shapers is that they are often transparent, making it really easy for you to see what you are doing and adjust the tool to achieve perfect symmetry. This makes plastic beard shapers the best for beginners and those who want to maintain their stubble rather than grow a long beard.
The Shape
Depending on the complexity of your beard and all the details you will have to take care of, the next thing you will want to pay attention to are the various shapes offered by beard shaping tools.
The best thing to do is to find a tool with two curved edges and several different straight ones, which will enable you to experiment with any look you want. The more varied edges a tool has, the greater the chances of pulling off every look you can imagine.
While searching, keep in mind whether you will need a comb on one or even two edges of your styling tool. A comb will help with trimming and styling, but do not have too much faith in these smaller combs if you have a thicker beard.
The Price
As with most simple products, the great thing about these beard shape-up tools is that they are relatively cheap. Almost all of them cost less than $20 with a good percentage costing even below $10. This means that you fully equip yourself with a professional beard grooming kit for the same amount of money that you would pay for one visit to the barber!
Additional Information
When growing out your beard, you might be in a hurry to try out that new beard shaping tool you just got. There is no need to rush! Leave your beard alone for 6-7 weeks. Let it grow without any trimming or styling. This will let you be sure that all the hairs have grown out. Only after that time has passed, can you slowly start shaping your beard into the desired style.
Expert tip: If your beard is hard to tame, try combing some beard oil through it. The hair in your beard is not as oily as the hair on your head and this lack of oil can make it look scruffy very easily. Oiling your beard will make it easier for you to shape and smooth it to your liking.
Did you know that combing your beard regularly eliminates ingrown hairs and supports healthy beard growth? It turns out that brushing was never just about the looks!
If you want to use a wooden or metal beard shaping tool but are not 100% sure that the end result will be symmetrical, consider getting a barber pencil. They are really quite useful and will make you look like a real pro. Try to get a white pencil if you have a darker beard or darker skin, though.
Also, if you are not that into styling your beard but enjoy combing through it, try a sandalwood comb. It works for both thick and thin beards and looks quite nice.
Living With a Beard Shaping Tool
Living with your beard shaping tool is easy. The only thing you have to do is wash it with lukewarm water from time to time and clean off any hairs that may have been left behind.
Other than that, the only reason to get another one is if you want to try a new style that cannot be achieved with the one you already have.
Conclusion
In this article, we have shared our Top 10 best tools for shaping your beard. We have talked about their pros and cons and hope that this has been a comprehensive guide to finding the perfect product for you. Now you know what functions you should pay attention to and what materials to choose, the only thing left is to grow out your beard, pick a style, and start practicing!