A great haircut can be very powerful and can really help you to look and feel your best. But it is no secret that not all haircuts are universally flattering. We all have different faces. That is why, before you go to the hairdresser with a particular haircut in mind, it is best to first know your face shape, facial features, and the haircuts that are best for your face. By working with – rather than against – your natural assets, you can increase your beauty with just a few tips.
Generally, there are four basic face shapes: oval, round, square, and heart. But, of course, there are some variations as well. These include long, diamond, triangular, and so on. We have to take into account that many people have faces which do not fit perfectly into the categories above. But, generally, most faces fit into one category or another. This makes it easier to find a haircut you will be happy with.
To determine the shape of your face, simply look into the mirror after taking a shower or a bath. Comb your wet hair back or put it up in a ponytail, exposing your ears. Then trace the outline of your face onto the surface of the mirror with a pen or marker (not a permanent marker, of course). After doing this, the precise shape of your face will be left behind on the mirror.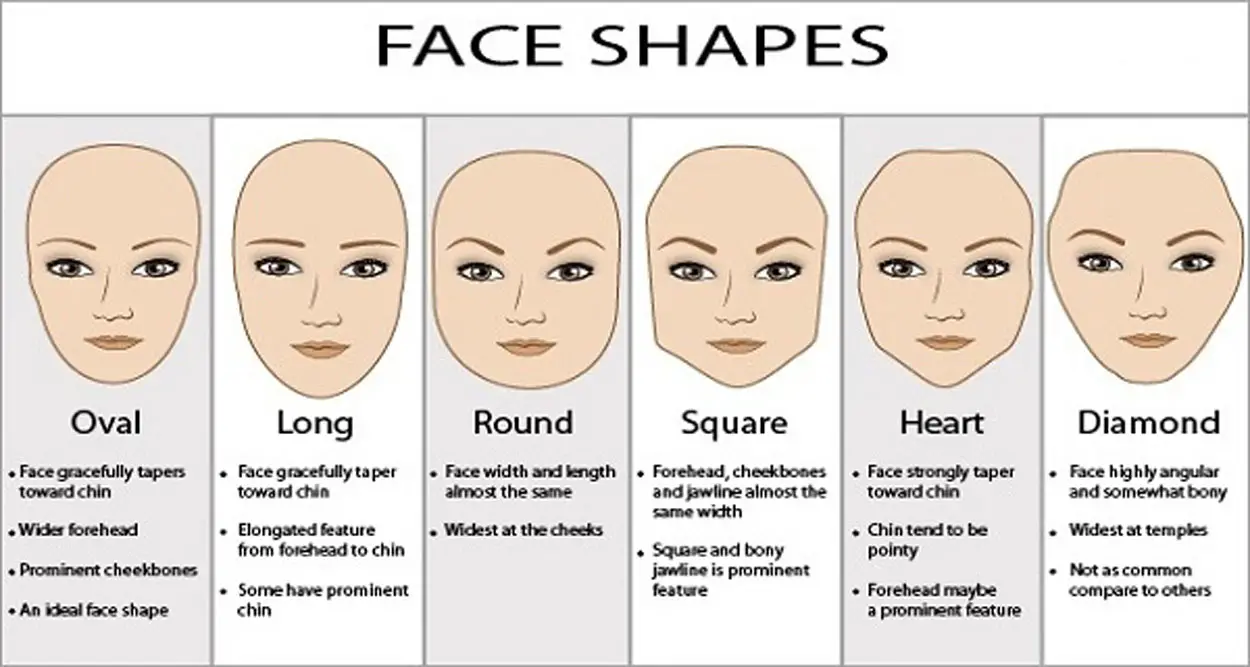 Round Faces
Square faces have about the same length and width but their jawline is sharper and has bolder angles. The forehead and jawline of square-faced people are about the same length.
Soft, graduated layers with soft and wispy ends can offset the sharp angles of square faces. Also, side-swept bangs can distract attention from the angularity of square faces. People with square faces have to know that loose curls and wavy hair work well on them as well. But blunt cuts with heavy, straight bangs have the opposite effect. For short hair, try a short bob with lots of bangs and layers. For medium-length or long hair, try something with lots of feathery layers which hit above your jawline. If you have a square face, you should use a slightly off-center part.
Heart-Shaped Faces
Heart-shaped faces are characterized by wide cheekbones, a wide forehead, and a narrow chin.
Chin-length and textured hairstyles help to fill out the bottom part of the face. Side-swept bangs help to emphasize the cheekbones and the eyes. Pixie cuts also look flattering on heart-shaped faces. But, if you want longer hair, try wispy layers with a strong side part, heavy bangs, or medium-length bob. Do not go for blunt bangs or haircuts add bulk to the top part of your head.
Heart face
Heart faces are characterized by wide cheekbones and forehead, as well as narrow chin.
Chin-length and textured hairstyles help to fill out the bottom part of the face, but side-swept bangs help to emphasize cheekbones and eyes. Also, pixie cuts look flattering on heart faces, but if you want longer hair, you can try wispy layers with a strong side part, heavy fringes or middle length bob. Do not choose blunt bangs and haircuts which have bulk around the top part of your head.
Oval Faces
Many believe that oval faces are the most balanced face shape. That is because oval faces are one and a half times as long as they are wide. Oval faces feature foreheads and jawlines which are about the same width.
We can say that almost every haircut and hairstyle works for oval faces. So, if you have an oval face, you can try bangs which attract the attention to the eyes. This will visually shorten the distance from your hairline to your jawbone. People with oval faces can try parting their hair in the center. Considering that almost any haircut and hairstyle compliments this face shape, you can consider something trendy like blunt bangs or a medium-length bob.
Diamond Faces
Instead of trying to hide the features of this special face shape, try to emphasize your coveted facial structure. Long, straight hairstyles and wispy bangs are great for this face shape.
Triangular Faces
Triangular – or long – faces feature a narrow forehead and a strong, wide jawline. The main purpose of any haircut for this face shape is to make the jaw slenderer and widen the brow. This will help create balance. In the case of a triangular face, short haircuts are typically a better option. They add height and move attention away from the bottom part of the face. An asymmetrical haircut which hits at eyes and is shorter in the back is another great option.