Many men go through life with a very similar problem. This problem is one that pops up in their teen years and goes on throughout their life. Shaving, it's something every male goes through and it can be one of the most irritating things to deal with when you have to get up in the morning for a business meeting. If you're one of those men who need to take care of a long beard or you have to keep a clean shave for your job, then you probably find yourself frustrated daily with your razors. This list is put together to help you find the perfect pair of clippers to make your life easier and easier. Listed below are some of the best clippers you can find on the market and a small guide on how to choose the one that's right for you.
Beard Trimmer Buying Guide
So, you have finally given up on the classic shaving method and decided to get yourself a pair of clippers, huh? Well, this guide is a great place to get started. We have compiled a list of the best beard trimmers we could find on Amazon. Beard trimmers for men can be hard to distinguish between and some men may even pick up the first thing they see in a store. If you like to be smooth and look smooth though, you're going to want to take a look at this guide to learn all about some shaving etiquette you may have been missing out on this whole time.
First off, you may be wondering is why you should get rid of the classic shaving cream and razor combo to switch to something that's going to cost you more money. First off, that's a horrible way of looking at this. Buying a trimmer can actually save you more money in the long run by giving you something you can use over and over again that would take a lot longer to use up. Think about how often you actually run out and buy shaving cream or have to buy a new razor. Razors are pretty prone to things like rust or losing their edges extremely fast. Likewise, it seems like a shaving cream can run out quicker than any other item in the house. By buying a clipper, you can cut out the shaving cream if you get the right model and save a ton on razors.
Clippers also are less likely to give you problems that you may experience when shaving. Many men suffer from the embarrassing thing known as razor burn. Razor burn is a rash that pops up on your face and just doesn't look very good. A lot of men also suffer from things like ingrown hairs that look even worse and can make you look like you're having a teenage break out on your face. Clippers can help reduce the chance of either a razor break out or ingrown hairs by properly trimming off the hair. Razors, on the other hand, have a high chance of pulling out your hair or not cutting it in properly so that it doesn't grow back right resulting in ingrown hairs. No man wants to look like they did back in their high school days.
If you're savy, then you're going to figure out that clippers are actually a lot easier and quicker to use than a razor. Clippers work much faster in getting all the hair off your face than a razor could ever imagine. This is because their motorized and the blades are always moving back and forth to give you the closest, cleanest, and fastest shave you can imagine. They can be taken almost anywhere and used in places you wouldn't dream of using a razor. For example, you can take some clippers on an airline and even use them in your office bathroom if you forgot to shave up before going in. You can even keep a pair of razors in your desk drawer for those mornings you just don't make it in time to do everything you need to look your best.
There are also clippers for just about every price range you can imagine. Clippers can range anywhere between $12 to upwards of $100 if you're looking for the more high-end brand. Not only this but even if you get the cheaper $12 ones that break easier you're going to find out they will still send you more money in the long run than buying razors over and over again. A lot of these clippers can even be used without water meaning that you can literally shave on the side of the street if you needed to. That also proves that you won't have to buy shaving cream in order to use these.
If we don't have you convinced already, then let's talk about your hair. A lot of these clippers are multifunctional, meaning that they can cut your hair as well. If you're a guy that likes to have a nice short hair look then these are going to be great for saving you money on trips to the barbershop. A lot of these can even be used as nose hair clippers or eyebrow shavers to make sure every part of you looks at its best. If that's not enough, a lot of these can be used to sculpt your chest or other areas of your body that you may not want to use a traditional razor on. Many men find themselves in a wax parlor to fix their chest area, but with these clippers, you can do it all on your own and save yourself a bunch of money in the process.
Clippers also can be a great addition to any man's home who likes to be eco-friendly. They produce less waste than using shaving cream or razors meaning that anyone who's environmentally conservative will love these. By using clippers that run off of electricity, you are saving the environment tons of trash each month. Make sure you look for a brand that doesn't use batteries and can either charge off of your outlet or through some type of solar energy. This is a great move to make to make your home just a little bit more eco-friendly that you may have never thought of!
If you are a man who likes to have a beard, fear not these are for you too. Let's face it, this is why beards sometimes just suck in general. This is because hair can grow every which way and make your beard look completely unbalanced. This is where clippers come to save the day. Clippers can easily trim off those uneven parts in your beard and help them grow back in place like you want them. These can also help you keep your mustache in check or goatee if you don't want too much for on your face. Beard trimmers are a furry man's best friend.
---
1. Philips Norelco Multigroom 3100
Specifications
Manufacturer: Philips
Kit includes instruction guide, 5 different attachments, charger cord.
Power: 60 minutes
Material: Chromium steel
Color: Black
Dimensions: 2.4 x 5.9 x 9.6 inches
Weight: 11.2 ounces
Other features: 100% washable
Review
This all-in-one beard and hair trimmer are perfect for the busy man on the go. By combining two things in one, this shaver can save you a lot at the barbershop. That's because no matter what area of the body you need shaving, the Philips Multigroom has your back and will keep you looking business ready no matter the occasion. This model even comes with 5 interchangeable safety pieces that will help keep you cut free while you shave away those extra strands. The model is also chargeable, meaning you won't have to constantly run out to buy battery packs every time you turn around. It's worth mentioning that this model is waterproof, which means you can easily clean it under running water. Be wary though, it isn't a model that can be used while you are in the shower. While it is waterproof, it has its limitations in just how much water it can take. This model will only run you $19.99 and is eligible for free shipping on Amazon.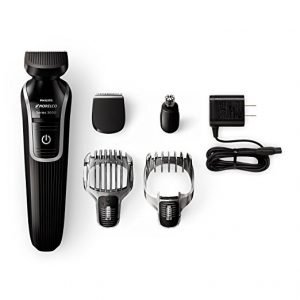 This has a pretty long charge time, meaning you won't have to constantly worry about whether your razor has power or not. Likewise, part of it can be used as both a hair trimmer or a beard trimmer meaning that you won't have to worry about going out to the barbershop anytime soon. The 5 attachments can even some make it so you can easily trim nose hair or fix your eyebrows if needed. This trimmer will make sure to keep your business ready and looking your best by helping you get those hard to trim places perfectly. Also with this model, you won't have to worry about purchasing batteries as the charge time is pretty lengthy!
Sadly, this isn't the most precise razor on the market. But you do have some variability on how close you want your shave and this razor leaves a little bit to be desired in picking out your perfect length. The problem with this model is that the battery actually has a pretty short life. This means that you may find yourself having to buy another razor as the battery life isn't that long. Some users have also reported that the razor is a little bit awkward to use if you're used to older models.
Buy on Amazon
Advantages
Disadvantages
Awkward Design
Long charge Time
---
2. Wahl Professional Peanut Classic Clippers
Specifications
Manufacturer: Wahl
Kit includes instruction guide and extra attachments.
Power: Plug-in
Material: Plastic, Metal.
Color: White
Dimensions: 1.8 x 1.8 x 4 inches
Weight: 4 ounces
Review
This Wahl beard trimmer is a little bit more expensive than some of the other things on this list. The Wahl Professional comes with four different attachments to help you get a precise shave. This model only comes in white and has many sizes compared to the other choices we have to offer you.The clipper is intended for professional use and it's supposed to be able to give you a better shave than any barber can. The reviews have mostly positive points or are just stating true facts! To use the trimmer, simply plug it into the nearest wall outlet and it's ready to go! Be warned though, this model doesn't seem like it's waterproof, meaning you have to take extra care when cleaning it off. With a price tag of around $40, they at least they have free shipping on Amazon.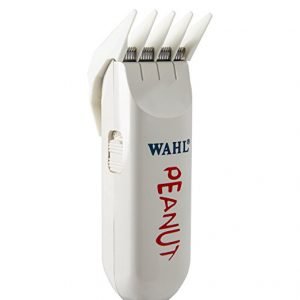 This is a very small razor meaning that it can easily be put in the travel bag. For guys that are on the go for business trips constantly, this can be the perfect companion to have with you. It also is made by one of the first companies to ever make clippers in the world. That gives this thing its own pedigree and an impressive background to rely on. The packaging even includes a cleaning brush to help you keep your new clippers up to standard after each use! There are also 4 guards to help you get a more precise shave when using the Wahls clippers. These are also said to be extremely durable and able to last a pretty decent amount of time. Wahls is also one of the first clipper companies, meaning they really know their stuff in the beard trimming world!
First off, I really cannot get behind the design of these clippers. While the description says that they're sleek, it definitely leaves something to be desired. The design coupled with the size of these clippers kind of leads you to believe this may be a children's toy. It certainly isn't something I'd want my date seeing if they come over to my house and look at my bathroom. Also, since the Clippers don't seem to be waterproof, you're going to have a hard time cleaning them in the long run. Also, I'm a little bit sad that these don't have chargeable batteries as they are rather expensive compared to some other clippers on the list. The fact that this still has a plug-in is a huge turnoff for me wanting to buy this particular model.
Buy on Amazon
Advantages
Disadvantages
Not wireless
Unnactrive design
Small
---
3. Conair Beard & Mustache Electric Trimmer
Specifications
Manufacturer: Conair
Kit includes instruction guide extra heads.
Power: Plug-in
Material: stainless steel
Color: Red
Dimensions: 3 x 5.1 x 9.9 inches
Weight: 12 ounces
Other features: 2-year warranty
Review
Conair isn't exactly the brand you would expect to see in men's grooming. Conair typically makes things like hair dryers and flat irons for women. With these clippers, however, Conair decided to jump into the male grooming market. The good news is they have created a completely cheap and affordable clipper set for those of us who are on a budget. This model comes in red, giving it a little bit more of a stand out color than the other models on this list. It has a simple design that seems simple to use for anybody who has never bought a set of clippers before. It also has easy to adjust guards that will help you get the links you need from your clipper set.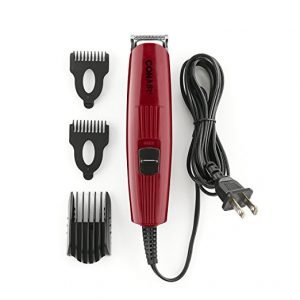 The Conair beard trimmer is certainly more attractive than some of the other ones on our list and the price will fit just about anybody's budget. Conair is also a trusted brand in hair care even though they mostly dabble in women's products. The clipper is also very simple and all you have to do to use it is to plug it into the wall. This means that you won't have to waste money on batteries or time trying to charge it. It's medium sized also, making it decent for travel meaning you can take it with you no matter where you are going. This model also comes with a limited 2-year warranty, meaning that any faulty wiring or mechanical failures will be covered by Conair and you'll have a new razor in no time.
This product being cheap is kind of a sign that it's not the greatest quality on the market. It doesn't get you a super smooth shade or anything but it will get the job done enough to get you by. It also seems to have a higher malfunction rate meaning that it really does need that 2-year warranty that comes with it. No one seems super impressed by this model and it's definitely nothing to write home about but it does do okay as a quick set of clippers. Also, don't expect to be able to trim through any thick beards or anything of the sorts because it's just not that powerful in honesty. If you're looking to save money then go for this model, if not then you're definitely going to want to put some more money into your clipper set.
Buy on Amazon
Advantages
Nice Design
Good for travel
2-year warranty
Disadvantages
Not Wireless
Not Powerful
---
4. Gillette Fusion ProGlide Men's Razor Styler
Specifications
Manufacturer: Gillette
Kit includes beard trimming kit, holder, and guide.
Power: Variable
Material: Steel
Color: Blue and black.
Dimensions: 10.5 x 11.9 x 2.8 inches
Weight: 1.09 pounds
Other features: Frustration-free packaging
Review
Gillette is definitely a name that any man that has owned a razor should know. Gillette is pioneers in the men's shaving game and has a lot of respect in the male community for knowing their stuff. Unsurprisingly, they decided to make a pair of clippers under their brand name. These clippers are focused on giving you a clean and comfortable shave just like their razors. This clipper is easy to use and will have you feeling great after each shave. These clippers are good for grooming all parts of your body including getting rid of stubborn chest hair or trimming up the sides of your face. The model is only $19.99 and it comes with free shipping through Amazon Prime. This model also comes with a rechargeable battery meaning you won't be hampered down by any cords. This gives you the ability to take this razor with you anywhere you need to go and even shave on the plane if you really needed to.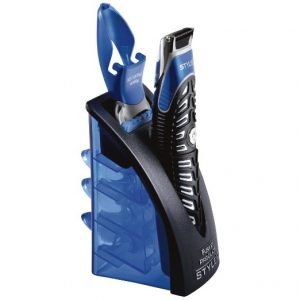 This clipper has a very modern and masculine design to it. The color palette used to design this razor is very attractive and looks great. Not only that but having the brand name of Gillette behind these clippers lets you know that the company that made them really knows what they're doing. Its price tag is that of just under $20 which is a no-brainer for anybody who has had good customer relations with this brand in the past. On top of that, it comes with several different extensions to help you get to shave where you need it the most.To top it all off, the set even comes with an organizer for you to store all of your extensions and the razor itself and that will make your bathroom look even better than before.
Some users have cited that this model is a little bit weak on power. They have also said that when you're using more sensitive parts, you have to be extra careful when using this machine as it has a tendency to pull hair a little bit. This model doesn't actually don't stand up to the test of time very well. That means you may have to replace your clippers a lot sooner than you originally planning to because they may just give out. You can't expect too much from a cheaper brand of clippers so if you're going to buy this pair, keep in mind that you get what you pay for when it comes to price generally.
Buy on Amazon
Advantages
Gillette branding
Stylish
The organizer comes with it
Disadvantages
---
5. Philips Norelco OneBlade Hybrid Electric Trimmer and Shaver
Specifications
Manufacturer: Philips
Kit includes: instruction guide and extra guards
Power: 45 minutes
Material: Steel
Color: Green/ black
Dimensions: 7.1 x 8.1 x 2.4 inches
Weight: 9.9 ounces
Other features: Contour following
Review
This Philips beard trimmer claims to give you a more comfortable shave by keeping the blade farther away from your skin.This model has a replaceable blade that lasts up to 4 months at a time. That means that if a blade gets worn out, you can easily replace it by inserting another one. This model also features click on combs to easily change what length you want your shaver at. The shaver is waterproof meaning that will be easier to clean and some other models on this list. If you accidentally drop it in the sink while shaving, it will be completely fine and you will have nothing to worry about. This also gives you the ability to put water on the razor if you think it will help you get a better shave than just adding it on your face. The price of his razor is a little bit higher than some others on our list and will cost you around $35 with free shipping.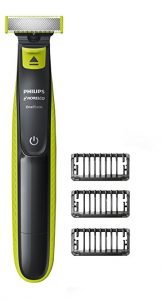 This model is actually pretty attractive as it has very masculine colors to it. The replaceable razor heads mean that you'll be able to find and easily attach new razors once the ones you're using become dull. The razor also features very easy-to-use instructions that will have you looking great in no time. If that's not enough, the Philips brand is pretty well known for making some durable shavers for you to use. This one is especially great because you can even use it as a mustache shaver if need be. The shaver features a contour following, meaning that it can easily navigate your face or your body in order to get the perfect shave without cutting you. The battery only takes 8 hours to charge and will last you a total of 45 minutes of usage.
If you're looking for a quick shave, then this probably isn't going to be the razor for you. The charging time for the Philips clipper is extremely long and while it does have a very strong shave when properly charged, it may not be very useful to many businessmen. Also, the fact that the blades only last about 4 months means that you're going to have to be replacing them pretty normally. This can rack up a bill pretty fast and leave some people feeling frustrated that they didn't choose a more durable razor brand. Users have even reported the razor head replacements are pretty expensive and that if dropped the clipper unit can be rather fragile and easy to break.This means that this model may not be great for traveling as a lot of bouncing around can easily lead to cracks or the heads being damaged. It is also said that the shaving can be inconsistent at times leaving you with a patchy trim. This model may not be for you if you're looking for a long beard trimmer.
Buy on Amazon
Advantages
Contour with your face
Durable
Easily change razor heads
Disadvantages
Not the most accurate trimmer
---
6. Braun Series 3 ProSkin 3040s Men's Electric Razor
Specifications
Manufacturer: Braun
Kit includes: instruction guide and attachments
Power: 60 minutes full charged battery
Material: steel
Color: Blue/Black
Dimensions: 6.1 x 2.2 x 8.7 inches
Weight: 11.8 ounces
Other features: Easy to take apart
Review
This beard trimmer comes from a globally recognized brand that will have you looking your freshest fast. This brand takes pride in being manufactured in Germany where they're said to make extra strives in product quality. This model even comes with an LED display that will let you know when you're running low on battery power. Also, the clipper charges extremely fast meaning that if you're on the go, you can that have reliability in your shaver's charging capability. This is easily one of the best models on the list for those of us looking for a premium product that will do the job fast and professionally. This product sells for around $55 on Amazon and comes with free shipping. You can also get 2-day shipping easily by using your Amazon Prime account to get this model to you even faster!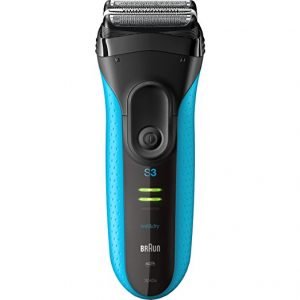 This thing looks lovely and has the power that you're probably looking for in a shaver. With the ability to charge for one shave in just 5 minutes, this clipper can have you up and go out the door faster than most of the row of models can. Also, it has an LED display that will help you figure out just how much battery power you have left and if you should waste your time trying to charge it or just go ahead with the shave after you haven't used it for a while. If you take the time to charge fully then you actually have 60 minutes of usage out of it. The blue color they decided to use it with this razor matches perfectly and we'll make it look great in your bathroom. The designers of this razor actually put a lot of work into this model and it shouldn't be something you're scared to spend a lot of money on if you're in the market for a good set of clippers. This clipper is also one hundred percent waterproof meaning that you don't have to worry about dropping it in the sink. Likewise, you can either use the shaver completely dry or with a little bit of water on it and give you the most comfortable shape possible.
The bad news is if you take this shaver apart to clean it, you may actually end up breaking it pretty easily. Users have reported the individual parts of the razor are actually pretty fragile meaning you have to be extra careful when cleaning it. This can be a hassle as it can easily get clogged up and at some point in time, you're going to have to try to unclog this thing whether you want to or not. This product is going to cost you a little bit compared to the other models on this list meaning it's not going to be very budget-friendly for somebody who just wants something to trim up before work or someone who's just looking to keep their beard in check.
Buy on Amazon
Advantages
LED display
60-minute runtime
Waterproof
Disadvantages
---
7. Remington PG6025 All-in-1 Lithium Powered Grooming Kit
Specifications
Manufacturer: Remington
Kit includes: instruction guide
Power: 65 minutes full charged battery
Material: surgical steel
Color: Black
Dimensions: 3 x 9.2 x 4.5 inches
Weight: 1 pound
Other features: Surgical grade blades
Review
The Remington beard trimmer a is brand that comes with surgically graded blades in order to increase durability. This trimmer also comes packs a lithium battery that will increase the total time the trimmer can be used for. You can expect higher power and higher performance out of this brand than some of the others on the list. These clippers are even made to be completely washable to give you ease of mind when cleaning the hairs you leave behind. Textured grips help you get a better hold of the model while it's in use. This model is only going to run you $19.99 and comes with free Prime shipping if you're an Amazon Prime member. It also has a 60-day money-back guarantee just in case you don't believe the shaver is up to your standards.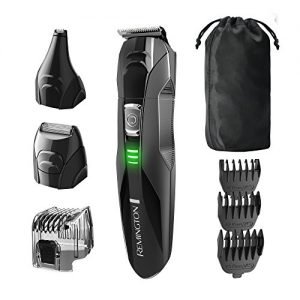 With a quality satisfaction guarantee as well as a 2-year limited warranty against system malfunctions, this shaver guarantees you'll be covered no matter what. The hair clipper comb add-on even comes with 8 settings to help you get the cut you want the most. This can help you save money on haircuts throughout the year as well as get you a clean shave at the same time. The lithium battery can last up to 65 hours of cordless runtime in high-power mode. The best part is that the lithium battery guarantees that the trimmer can hold a charge for a long while without being used.The charge time only takes about 4 hours meaning that you can leave it charging while you're at work or getting some sleep and it will be ready for you when you're done. The blades are also self-sharpening meaning that they'll keep their own edge without you having to worry. If that's not enough, this model comes with the storage pouch to keep everything in with purchase.
Users say that having to switch between the attachment is a little bit time-consuming.They also say that while the blades are sharp enough to cut yourself, it can take a little bit longer to trim due to this fact. For people looking for a fast and sharp shave, this may not be the razor for them since the blades aren't kept as fine as on other models. There are a lot of settings to choose from and most people have to play around to find what works for them. This can make getting used to the shaver a little bit frustrating and hard to use it first. The battery also has a tendency to fail on some models meaning you may have to use that 2-year warranty a little bit early.
Buy on Amazon
Advantages
2-year warranty
Quick charge time
Long Usage time
Disadvantages
---
8. Andis Professional T-Outliner Beard Trimmer with T-Blade
Specifications
Manufacturer: Andis
Kit includes: instruction guide and extra guards
Power: Plug-in
Material: carbon steel
Color: Grey
Dimensions: 1.8 x 1.5 x 5.2 inches
Weight: 11.2 ounces
Other features: Fast trim rate
Review
This model is meant for dry shaving which means you won't have to worry about getting shaving cream or even splashing your face with water can use this one properly. This has even more versatility of being used on the go so you won't have to look for a water source in order to have a clean shave. It is, however, the most expensive model on our list and will cost you around $65 to own. While this does come with free shipping, you may be looking at some of the other models and wonder why you would want something that cost this much? This razor actually gives you an extremely close shave to make sure you get every little hair on your chin. It also gives you peace of mind knowing that it won't cut you due to the way the razor is made. It's even cited as this being close to having a professional barber clipper being used on you.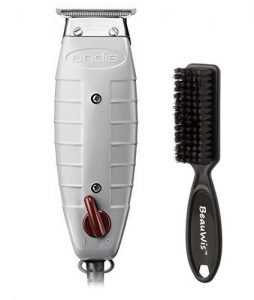 The extremely close shave means that your hair is won't grow back as noticeably. This is because the hairs are not going to have anywhere to grow from but the root, meaning you'll have more time between shaves. To accomplish this extremely close shave razor put that about 7,200 Strokes per minute to make sure it gets every little hair hiding on your face. It even comes with a blade brush to help you keep the rest of your face and check that you may not have got with the razor. The blades are also made of carbon to guarantee long lasting usage. It is completely made in the USA for quality assurance and uses only the finest parts to ensure that every model is sent out correctly.
These clippers are supposed to last a pretty good while but users have reported that they have to replace them within a year. This means that several of the models have issues with their battery dying like many other models can on this list. This is a little sad due to the fact that these are one of the most expensive models of clippers you can buy. It also has a little bit of a gamble even with the warranty that covers them to spend this much money on something that may leave you disappointed in the end. Some users have also said that the brand has gone downhill over time and these aren't as quality as some of the clippers they have bought from them in the past.
Buy on Amazon
Advantages
Disadvantages
---
9. Panasonic Milano All-in-One Trimmer
Specifications
Manufacturer: Panasonic
Kit includes: instruction guide and attachments
Power: 50-minute battery
Material: stainless steel
Color: Blue/Silver
Dimensions: 1.8 x 1.8 x 6.7 inches
Weight: 12.8 ounces
Other features: Trims at up to a 45-degree angle
Review
These Panasonic beard trimmers can be used both wirelessly and plugged in for maximum mobility. These clippers can easily cut up to 45-degree angle meaning you can have one of the most accurate shaves possible if you choose this brand. The AC charging stand makes sure that whenever you're ready to use your clippers, they'll be ready for you too. The charging stand works by you just sitting the clippers on it whenever you're done and letting the stand do the rest to keep everything up and running. The blades can be used whenever you want a wet or dry shave meaning you'll be able to shave anywhere and even on the go in places that you may not find running water very often. This trimmer will cost you around $40 and as with every item on this list can be shipped to you free or with 2-day shipping through Amazon Prime.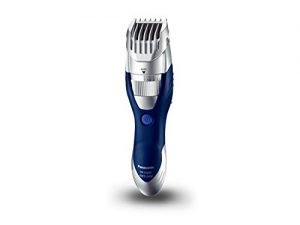 The design of these clippers is super simple and super attractive. This trimmer is also a hundred percent washable meaning that you can easily clean it when you get a hair in it. The close shave it gives you makes it an excellent stubble trimmer. It's almost guaranteed to make sure that you don't have an annoying 5 o'clock shadow sticking to your face.The clipper also features 19 precision settings to make sure that you get the look that you want no matter what. While it may take you a bit to figure out which settings are perfect for you, you're sure to find something that will work with your style. Another feature that comes in the package is an easy to read red light that will let you know when your charger is on. This way you can always tell if something's amiss if your dock stops charging for any reason. Lastly, this model features an easy open Drain to help get all the gunk in hair out during cleaning.
Some users reported that this model is actually pretty slow compared to others when trimming. That means that you may have to take some extra time or go over areas more than once in order to get everything taken care of. This trimmer doesn't seem to be made with heavy beards in mind. It's important that when somebody tries to use this particular model on a thicker beard it just doesn't cut it well. That means that if you have a thick beard you're wanting to keep in check, this is definitely not the trimmer you want to buy. Users also said that while it works in the shower, it was very slow and didn't seem to cut as fast as it normally did. This means that the water definitely slows this model down and even though it didn't short circuit or break, you may have a little bit longer wait for your beard to be completely trim down.
Buy on Amazon
Advantages
The high amount of precision settings
Waterproof
Disadvantages
Slow Shave time
Not good for heavily bearded men
---
10. Remington MB4040 Beard Trimmer
Specifications
Manufacturer: Remington
Kit includes: Instruction guide and attachments
Power: 120 minutes full charged battery
Material: titanium coated
Color: Black
Dimensions: 1.6 x 1.7 x 6.7 inches
Weight: 14.7 ounces
Other features: Titanium blade
Review
The Remington beard trimmer features premium precision ground blades to help you get an even closer shave than ever before. These blades also make cleaning a breeze when it comes time to freshen up your clipper.The clipper comes with a zoom wheel that helps you easily adjust the length needed for trimming up your beard. All you have to do is roll the wheel with your fingers you get the desired length and then start working on the new cut. With it's easy to use functionality, this is a perfect trimmer for anybody who just wants to jump into things without having to read an incredibly complicated instruction manual. It's also has a quick release of attachments so that you can easily swap them out fast or take them out in case of emergency cleaning with relative ease. These clippers will run you about $27 and can be shipped to you free if you have Amazon Prime.

These clippers are easily the easiest to clean on the list mean that you won't have much trouble when it comes time to fix things up. The blades are also easily interchangeable and won't take a lot of effort to snap in or snap out. This means that if you're in a hurry and need a whole different length, then the easier changing blades will save you a lot of time. The clippers also contain a lithium battery meaning that they can give you up to 120 Minutes of activity if the clipper is fully charged. The lithium battery also will hold up longer than most rechargeable batteries in that you can keep your clippers for a longer. The blades are coated in titanium making them last even longer than most models on this list.
Users have complained that Remington doesn't offer very good customer service. That means if anything goes wrong with your clippers, then you're going to have a hard time getting it fixed even with a limited warranty that most of them come standard with. There also is a possibility that your clippers make become defective and some consumer saying they're not made as well as higher-priced models. You also may have to spend quite a bit of time charging your clippers in order to get them fully charge. This means that they aren't always going to be ready to use when you need to use them the most.
Buy on Amazon
Advantages
Easy to clean
Easy to change blades
Long run time
Titanium coating on blades
Disadvantages
Iffy customer service
Less reliable than the more expensive models
Conclusion
No matter which of these models you're looking at remembering that we stated both the disadvantages and advantages. While some of these models may look nice in design they just may not be for the type of beard you have or they may have some malfunctions that you want to look into before purchase. All of the above are clippers and some of the best beard trimmers and are generally reliable and the disadvantages should only be taken as a note. The only difference you really need to look into is if the model is made for cutting through thick beards or not. Even if it has a cheap price it may not be the best financial investment for you to go for that one if it can't do what you need to do. Read every description carefully to find out just what the trimmer you're looking at is he going to do for you. Many of these clippers can easily be used for travel due to their chargeable nature. Make sure that if we're going to use any of these models for travel you see whether or not we mentioned them being good for on-the-go usage.